Riccardo Fassone
Associate Professor
SSD: L-ART/06 - cinema, fotografia e televisione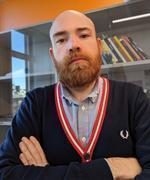 Contacts
At
Dipartimento di Studi Umanistici
Corso di laurea in DAMS
Corso di laurea in Scienze della Comunicazione
Corso di laurea magistrale in CAM Cinema, Arti della scena, Musica e Media
Curriculum vitae
Curriculum Vitae (0.1 MB)
Selected publications
ULTIME PUBBLICAZIONI:
Fassone, R. (2018), Ludo essay e ludofilia. The Beginner's Guide come ludographic essay. In «Cinergie», 13.
Fassone, R. (2018), Notoriously Bad. Early Film to Video Game Adaptations (1982-1994). In Dennis Cutchins, Katja Krebs ed Eckart Voigts (a cura di), Routledge Companion to Adaptation, Routledge, London, pp. 106-15.
Fassone, R. (2017), Il ludico e il bellico. Serious Games I-IV alla luce dei game studies. In Luisella Farinotti, Barbara Grespi, Federica Villa (a cura di), Harun Farocki. Pensare con gli occhi, Mimesis, Milano, pp. 359-66.
Fassone, R. (2017) (a cura di), Game Studies and the Humanities, «La valle dell'Eden», 31.
Fassone, R. (2017), Cammelli and Attack of the Mutant Camels. A Variantology of Italian Video Games of the 1980s. In «Well Played», 6(2), pp. 55-71.

Fassone, R., Huber, W. (2017), Game Studies in the Cinquecento. Prolegomena to a historical analysis of the rhetorics of play. In «Ludica», 21-22, pp. 10-13.
Fassone, R. (2017), Every Game Is an Island. Endings and Extremities in Video Games, Bloomsbury Academic, New York, 2017.
Fassone, R. (2017), Cinema e videogiochi, Carocci, Roma, 2017.
Activities in agenda
Academic bodies
Office hours
Il docente riceve tramite WebEX su appuntamento.

Announcements