Matteo Cestari
Associate Professor
SSD: L-OR/20 - archeologia, storia dell'arte e filosofie dell'asia orientale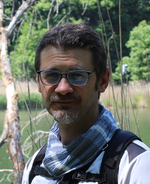 Contacts
0116703852
Pal. Gorresio
Via Giulia di Barolo, 3/a 10124 Torino,
Pian terreno, Studio 6
At
Dipartimento di Studi Umanistici
Corsi di Studio del Dipartimento di Culture, Politica e Società
Corso di laurea in Lingue e culture
dell'Asia e dell'Africa
Corso di laurea magistrale in Lingue dell'Asia e
dell'Africa per la comunicazione e
la cooperazione internazionale
Corso di laurea magistrale in Scienze delle religioni
Curriculum vitae
Curriculum Vitae (0.3 MB)
Research topics
AREAS OF SPECIALIZATION (AOS): Nishida Kitarō and the Kyōto School, modern and contemporary Buddhist Japanese philosophy, East-Asian and comparative philosophy.
AREAS OF COMPETENCE (AOC): East-Asian (Japanese and Chinese) religions, Buddhist thought, continental philosophy (history of philosophy and metaphysics).
AREAS OF INTEREST: religious studies, cultural and post-colonial philosophy, ethics, politics, aesthetics, anthropology, critical theory.
Activities in agenda
Academic bodies
Office hours
Il ricevimento si tiene SOLO su appuntamento. Si prega di inviare una email a matteo.cestari@unito.it per chiedere un colloquio.
ATTENZIONE: ricevimento durante l'emergenza Covid-19. Il ricevimento si terrà via WebEx alla seguente pagina:
https://unito.webex.com/meet/matteo.cestari
E' necessario concordare con il docente tramite email orario e giorno dell'appuntamento.
I seminari laureandi si terranno in date e luoghi indicati negli avvisi specifici.
Si prega di prestare attenzione agli avvisi su questa pagina, per verificare eventuali variazioni.
Si prega di rispettare l'orario e le modalità indicati per evitare spiacevoli dinieghi.
Il ricevimento studenti si intende sospeso durante il periodo degli esami (Cfr. il calendario didattico della Scuola di Scienze Umanistiche). Tuttavia, nei periodi di esami, i laureandi che ne hanno bisogno possono concordare un ricevimento (collettivo o individuale) con il docente tramite email.