Prof. Massimo Cerruti
Associate Professor
SSD: L-LIN/01 - glottologia e linguistica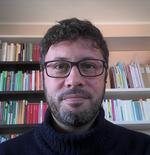 Contacts
0116709720
0116703441
Dipartimento di Studi Umanistici
Via S. Ottavio 50
10124 Torino
Ufficio: secondo piano, stanza B1
At
Dipartimento di Studi Umanistici
Corso di laurea in Scienze della Comunicazione
Corso di laurea magistrale in Scienze linguistiche
Dottorato in Lettere
Curriculum vitae
Curriculum Vitae (0.5 MB)
Publications
All my research products
Selected publications
ParlaTO: Corpus del parlato di Torino (con Silvia Ballarè), in Bollettino dell'Atlante Linguistico Italiano, III Serie, 44 (2020), pp. 171-196.
Partitive determiners in Piedmontese: A case of language variation and change in a contact setting (con Riccardo Regis), in Linguistics 58.3 (2020), pp. 651–677 [Special Issue, ed. by Tabea Ihsane & Elisabeth Stark: Shades of Partitivity: Formal and areal properties].
From dialect to standard: Facilitating and constraining factors. On some uses of the Italian negative particle mica, in Massimo Cerruti, Stavroula Tsiplakou (eds., 2020), Intermediate language varieties. Koinai and regional standards in Europe, John Benjamins, Amsterdam/ Philadelphia, pp. 125-148.
KIParla Corpus: A New Resource for Spoken Italian (con Caterina Mauri, Silvia Ballarè, Eugenio Goria, Francesco Suriano), in: Raffaella Bernardi, Roberto Navigli, Giovanni Semeraro (eds., 2019), CLiC-it 2019 – Italian Conference on Computational Linguistics. Proceedings of the Sixth Italian Conference on Computational Linguistics, http://ceur-ws.org/Vol-2481/
La formazione di varietà intermedie tra dialetti di base e standard in situazioni europee. Alcune considerazioni dall'angolatura italiana, in Rivista Italiana di Dialettologia 42 (2018), pp. 79-99 [Sezione monografica, a cura di Massimo Cerruti e Giuliana Fiorentino: Sociolinguistica delle varietà].
Code-switching in Italo-Romance: a variationist study of convergence in bilingual speech, in Lingue e linguaggio, 17.1 (2018), pp. 83-101 [Special Issue, ed. by Maria Napoli & Miriam Ravetto: Bilingualism and contact in the ancient and modern world].
Morphosyntactic variation: individual grammar and group grammar in the 'de-dialectalization' of Italian, in Sociolinguistic studies 11.2-3-4 (2017), pp. 313-339 [Topical Issue, ed. by Giovanna Alfonzetti: Sociolinguistic research in Italy].
Changes from below, changes from above. Relative constructions in contemporary Italian, in Massimo Cerruti, Claudia Crocco, Stefania Marzo (eds., 2017), Towards a new standard: Theoretical and empirical studies on the restandardization of Italian, Mouton DeGruyter, Berlin-New York, pp. 62-88.
La collocazione prenominale di sintagmi aggettivali complessi nell'italiano contemporaneo. Il contatto linguistico come 'rinforzo' di una possibilità del sistema, in Carlo Consani (a cura di, 2015), Contatto interlinguistico fra presente e passato, LED, Milano, pp. 397-420.
Standardization patterns and dialect/standard convergence: a North-Western Italian perspective (con Riccardo Regis), in Language in Society 43.1 (2014), pp. 83-111.
From Language Contact to Language Variation: A Case of Contact-Induced Grammaticalization in Italo-Romance, in Journal of Language Contact 7.2 (2014), pp. 288-308.
The Expression of Motion Events: A Quantitative Study of Six Typologically Varied Languages (con Benjamin Fagard, Jordan Zlatev, Anetta Kopecka, Johan Blomberg), in Matthew Faytak et al. (eds., 2013), Proceedings of the 39th Annual Meeting of the Berkeley Linguistics Society (February 16-17, 2013), Berkeley Linguistics Society, Berkeley, pp. 364-379.
Il concetto di variabile sociolinguistica a livello del lessico, in Studi italiani di linguistica teorica e applicata, 40.2 (2011) [Numero monografico, a cura di Gaetano Berruto: La variazione: un terreno d'incontro fra sociolinguistica e teoria linguistica], pp. 211-231.
Teoria dei prototipi e variazione linguistica: la categoria di scala di implicazione in prospettiva prototipica, in Vox Romanica, 69 (2010), pp. 25-46.
Strutture dell'italiano regionale. Morfosintassi di una varietà diatopica in prospettiva sociolinguistica, Lang, Frankfurt am Main, 2009.
Condizioni e indizi di coniugazione oggettiva: i dialetti italiani settentrionali tra le lingue romanze, in Rivista Italiana di Dialettologia, 32 (2008), pp. 13-38.
Sulla caratterizzazione aspettuale e la variabilità sociale d'uso di alcune perifrasi verbali diatopicamente marcate, in Archivio Glottologico Italiano, 92.2 (2007), pp. 203-247.
Il dialetto oggi nello spazio sociolinguistico urbano. Indagine in un quartiere di Torino, in Rivista italiana di dialettologia, 27 (2003), pp. 33-88.
Office hours
Venerdì ore 16:00-18:00
via S. Ottavio 50, stanza B1
Poiché l'accesso ai locali di Via Sant'Ottavio 50 è limitato, è necessaria la prenotazione.